Corn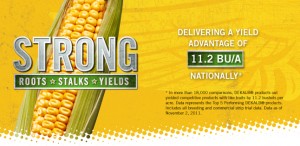 Genuity Brand Corn
Dekalb®Corn
Delivering Performance and Innovation
Superior Performance through exclusive global DEKALB® genetics
Proven Results with strong roots, strong stalks and strong yields
Committed to the future of agriculture through the newest genetics, latest trait technologies and investment in Ag Youth
DEKALB® — The Leading Provider of Genuity® Trait Technology
DEKALB® Genuity® SmartStax™
DEKALB® Genuity® VT Triple PRO™
DEKALB® Yield Advantage
An overall 9.9 bushel per acre advantage over the national competition.1
1. Source: Annual yield advantage calculated each year by comparing leading DEKALB volume products within each RM zone to national competitor products containing similar crop protection traits as of December 02, 2009. Weighted average calculated to 15% moisture. More than 200,000 comparisons represented in the 6 years of rolling averages.
DEKALB® Harvest Moisture Advantage
One point drier on average than the national competition can save you over $25 per bag2
2. Source: 2008-2009 Monsanto and third-party head-to-head comparisons as of 12/07/09.